Have you noticed? Habesha Kemis is becoming more and more popular each year. What use to be a "once in a blue-moon" occasional wear is now the hottest fashion trend amongst all age groups. Habesha Designers are coming up with fresh and bold designs drawing attention from every corner. By accentuating the traditional past designs, future ideas are being invented and changing the face of fashion as we know it. It appears that the recent controversy with Urban Outfitters (Click here to see petition) was very well a red flag to most; as it made it apparent that we have a colorful and vibrant culture in need of exploring and utilizing.
Fall season is slowly approaching us, with that in mind,  our Beera Beero team have culled an exclusive look-book just for your browsing. These ladies have stylishly incorporated these indigenous motifs into their wardrobes and looks like they are killing it on the streets.
Try mixing habesha kemis (click here to see meaning) essentials with your everyday wardrobe and accessories by taking a que from these lovely habesha fashionistas. This is the junction where Bold meets beautiful.
Punk-ish Bohemian

[fbshare]
The beautiful Rodas looks fabulous in her curve-hugging leather pants and hand-crafted bohemian style Tilf  top. With those perfect, naturally long curls and incredible figure, there's not many ways she can look bad. Her hand bag and heels also complement the rest of her attire perfectly while making an edgy yet coordinated statement.
Gojam Goddess
Api looks oh so gorgeous in her emerald Gojjam-inspired fabric dress by designer

Hewan Deneke

. Teamed with her beautifully tanned skin tone, brown wild curls and the glowing bronze heels, this college student really pulled an elegant look effortlessly. Moreover, the elaborate and stylized Ethiopian Coptic cross sawing gives this contemporary design a vintage effect.
 Traditionally Urban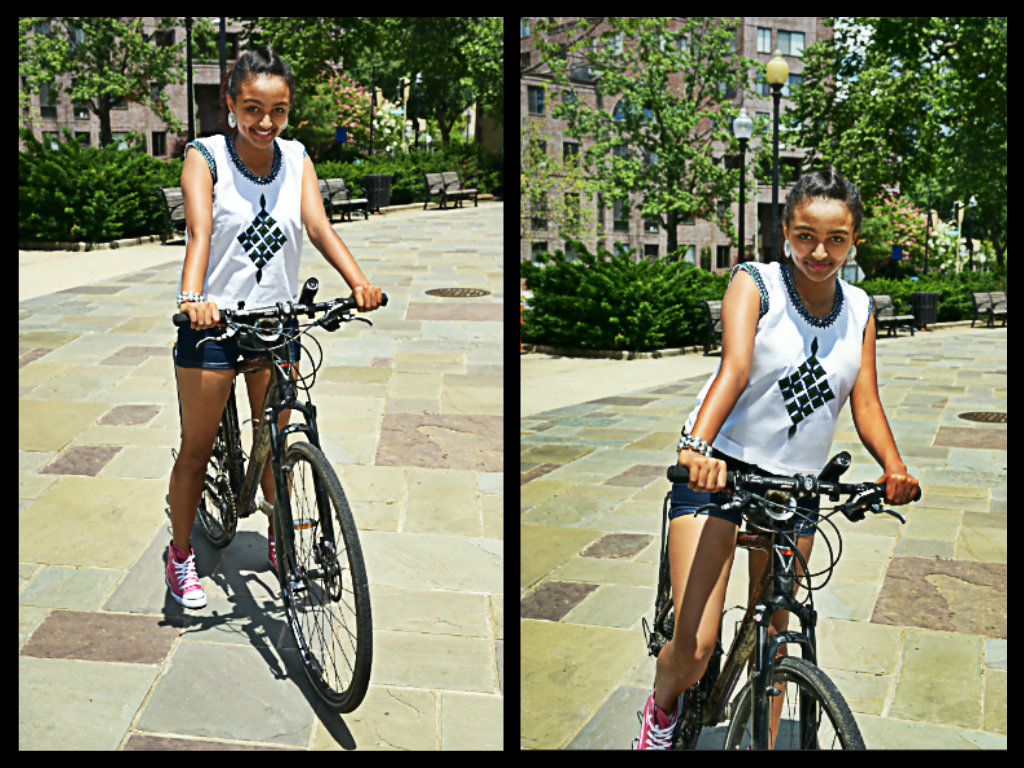 Ever feel like ditching your car and taking your bike downtown for a ride? Why not right?? This season, fashion meets function (no matter the terrain). Here, Elbetel is super adorable in her denim shorts and classic Ethiopian Coptic cross shirt (you know every habesha owns atleast one of these). Her pink converse completes this perfect retro ensemble for a fashionable ride around town.
[fbshare]