For just a second, imagine your signature outfit. How would you describe your style? Is it fearless, is it daring? Are you the fashionista that would pair a fabulous bodycon dress with a grand turban for special effect or complement tuxedo pants with a feminine peplum top? Velvet gypsies are! Founded by Aida Melaku and Raychele Ferrante in 2011, Velvet Gypsy is an up-and-coming online connoisseur of all things vintage. Largely pulled from the ladies' personal taste, featured looks on Velvet Gypsy are consistently whimsical, imaginative, and fluid. These two ladies have, and continue to create their unique take on vintage-inspired looks, and with that have created a profile of the woman bold enough to rock these looks. By definition, a velvet gypsy is fearless in all things, particularly fashion. She's the woman that can effortlessly wear an otherwise daunting outfit; she's the woman that won't apologize for her inventive taste. Do you dare to call yourself a velvet gypsy?
BUTTON NAMESTREET STYLE LOOKBOOK: Valvet Gypsy
Southern Gypsy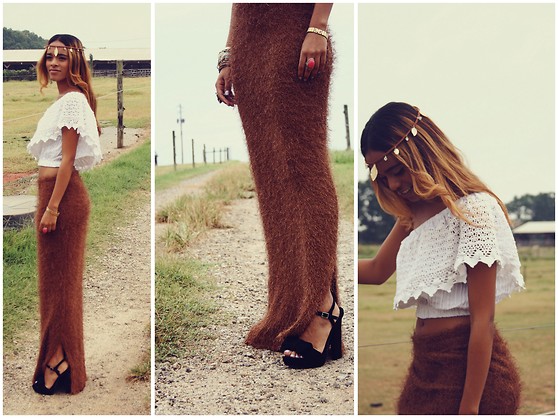 We were being the rebels that we are & decided to trespass on private property owned by a University (we don't condone this behavior, just happened to be lucky & it was pretty harmless morally.) Anyway, what really drove us to be so brave was that we saw a pair of beautiful horses. They were very friendly and at some point of the shoot Aida made a sudden movement, which scared the daylights out of the white horse. But our friendly four-legged friends still didn't want us to leave seeing that they stood glued to the gate as we departed.The brown & white horses went perfectly with the tones of the look. It was destiny even if it was not completely legal //
The chestnut-color frayed skirt is a wonderfully preserved vintage find & it will be a feature item when the store opens. We paired it up with a white crochet top that can be worn several ways. ​
LA TRIBE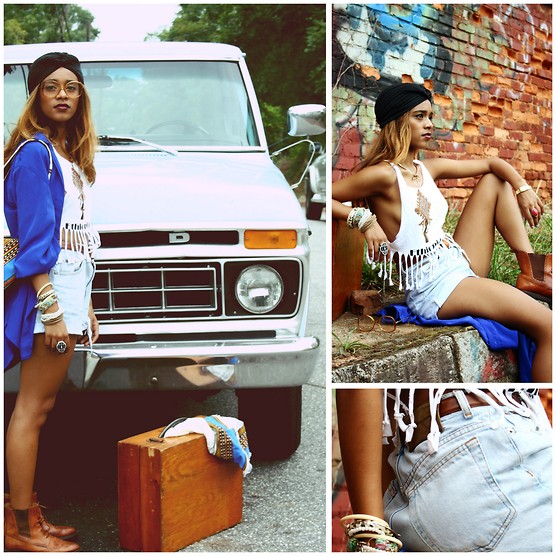 Cole Haan Shoes, Calvin Klein Light Blue Denim Shorts, Vintage Royal Blue Boyfriend Shirt
Gotta love the art that these people collaboratively assembled at different points in time. Check out the cool blue truck in the background…it's SO 60's! We call this look La Tribe. We combined some aspects of the 'gypsy' motive with a cultural street chic vibe. Some pieces will be in store soon so look out 😉
BLACK SWAN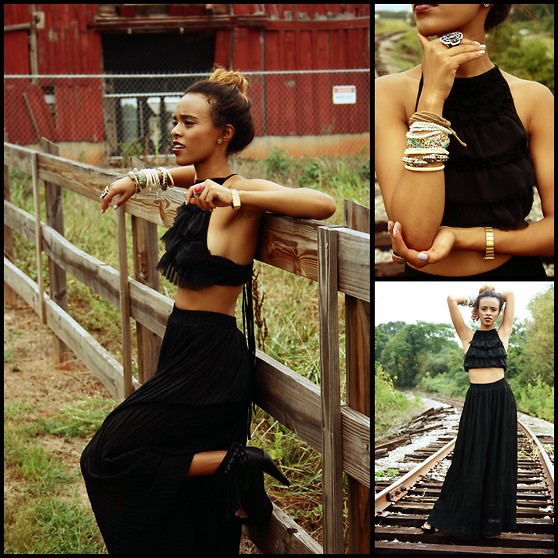 Vintage Black Chiffon Wide Leg Pants, Vintage Waterfall Ruffle Spaghetti Strap Crop Tank
TURBAN CHICK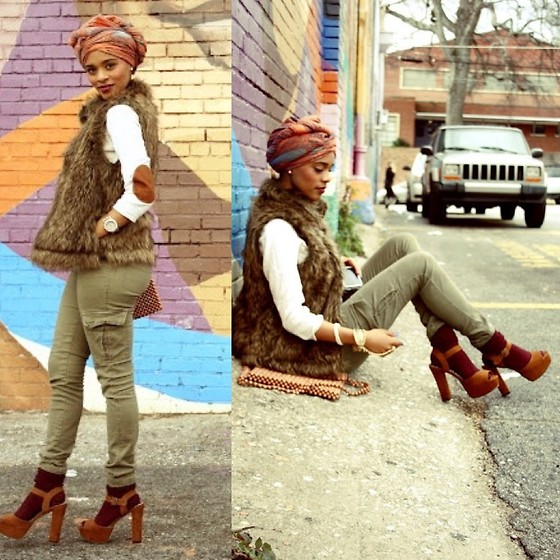 Faux Fur Vest, H&M Elbow Pad Sweater, Skinny Cargo Pants, Steve Madden Suede Platform Heels
A​ida's wearing a crème white sweater, with brown leather elbow patches( H&M), we paired it with green, cargo skinny's and a fur vest. What really emphasizes this outfit is the orange/green kaleidoscope scarf that we turned into a turban. The maroon socks paired with the tan heels give the outfit the edge it deserves
Madame Velvet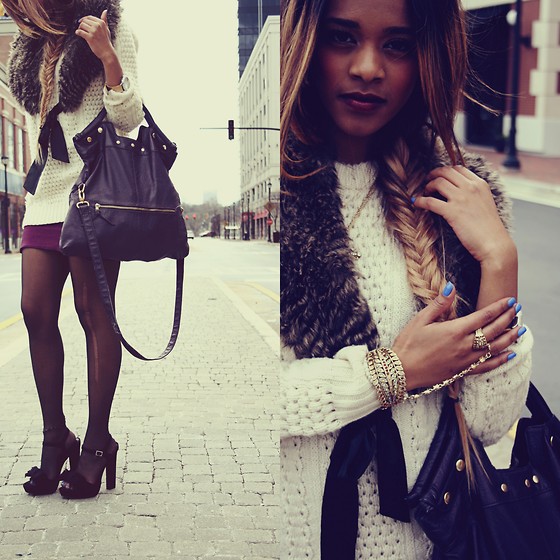 Topshop Wool Sweater W/ Fur
Shooting in A T L A N T A was so much fun! 'Big City, Pretty lights', Biggest Airport in the World? Yes, big city indeed. This shoot was different from our usual Classic City set-up, nonetheless, the sought-after southern hospitality is present no matter how hectic it may get. This took place in the center of Atlantic Station, the 138-acre establishment that's home to modern residences, office towers, and retail establishments all within a couple of steps of each other.
Aida is wearing a creme knit sweater, topped with removable fur shoulders which are ALL on top of an H&M maroon dress 😉 Clever eh? We paired it with some sheer black stockings and our favorite Jessica Simpson black doll heels. The dark purple purse adds the perfect pinch of color to this February day in Atlanta. Our favorite part of this outfit — the fishtail braid!! Yes, we did it & and we're addicted. Such a perfect, messy, yet creative touch to a classy outfit.
DEAD SUMMER'S SOUL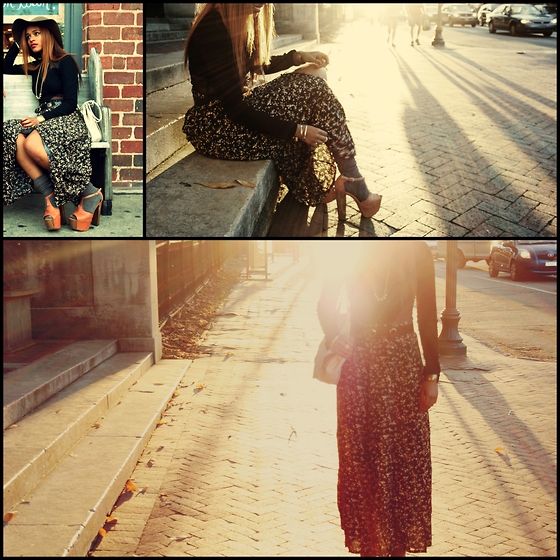 Jessica Simpson Dany's, Vintage Floral Maxi Skirt, American Apparel Black Body Suit
HAY there!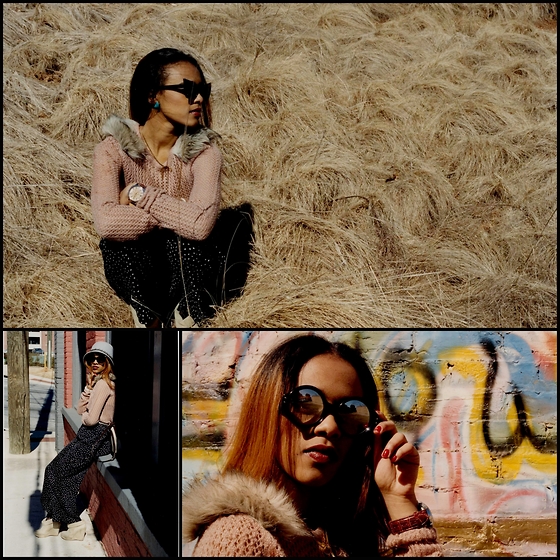 Topshop Wool Sweater W/ Fur Shoulders, Kelsey Booties, Vintage Palazzo Pants