There is no denying the charm exuded by Zewdi Reda. The beautiful frame, sweet smile and brown Abyssinian skin, she commands attention. She is not only a being of beauty but a giving soul as well. After making a name for herself during her reign as Ms. Ethiopia-USA in 2001, the beautiful Zewdi, has since used her platform for great causes. Zewdi founded and runs the non-profit organization Have Hope Foundation, which launches initiatives to help poverty stricken, orphaned and abandoned children, due to the HIV/AIDS epidemic in Ethiopia. She certainly has been on a roll. And there's no sign she's ready for a break.
Here, Reda discuses her journey and her future plans with Beera Beero magazine. We hope you enjoy the interview and maybe even get inspired.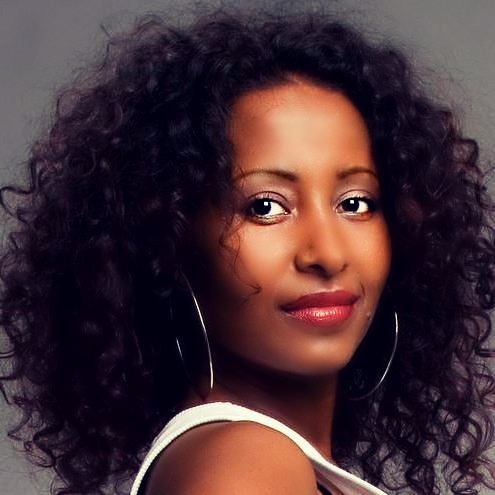 1) Can you discuss your nonprofit, Have Hope Foundation?
I started HHF 4 years ago to  help HIV/AIDS orphans in Ethiopia. In the last 4 years, I have been going to Ethiopia every year and providing orphan children in Addis Ababa, Sebeta and Mekelle with things such as blankets, pillows, shoes, food, and just recently this year we were able to give 60 girls sanitary pads to last them a year with two underwears each.  Currently in addition to helping HIV/AIDS orphans, HHF is starting a program to send a girl to school in rural Ethiopia. Education is almost obsolete in the villages. And girls rarely are expected to get an education. We want to change that one girl at a time. To find out more go to www.havehopefoundation.org​
How did you get started with your charity?​​
​I was inspired to start Have Hope foundation when I went to visit my sister in Addis Ababa. I had not been to Ethiopia since I was five years old. So everything was new to me. I wasn't expecting Ethiopia to be like America, but I still didn't know it was going to devastate me that much. I saw so many kids on the streets either begging or selling things they shouldn't be selling in odd hours of the night. When they should of been sleeping to go to school the next morning. It opened my eyes, that I have to do something to help kids there. But of course it wasn't possible for me to just help each and everyone of these kids. So I started to ask around and I was advised by many of my close friends that it would be easier to start by assisting the orphanages and go from there. Then once I know the Ethiopian system, I can help all children. So that's what I did. I came back to the U.S. and wanted to make it legit and opened my own charitable organization call Have Hope Foundation. I wanted those kids to start having HOPE that someone out there cares about them.
​
What are the greatest rewards?​​​
​There are so many rewards in helping others. One time that I can remember in particular is, when I was in Mekelle for few days in one of the orphanages. It was my last night there. It was time for me to say good-bye. As I am getting into the back of the truck, almost all of the girls pulled me out and started hugging me and kissing me saying, "don't forget us Zewdi, we love you" and they kept kissing me on the cheeks and would not let me go. The driver insisted that we go, because it was getting dark. But I couldn't leave, I kept crying with happiness from all the love these girls are giving, but sadness filled my heart because I was leaving them. Til this day, it makes me cry. That is rewarding for me. I don't want awards or any type of recognition. The fact that the kids that I am helping love me and I made a difference in their lives is the biggest reward for me.
I miss everything about Ethiopia. What is there not to miss. Of course I miss all of the kids that I got to know and love. If I had all the money in the world, I would literally move to Ethiopia and do my charity work full time. I really believe I was born to do that. The other thing that I miss about Ethiopia is the everyday life there, the people, the night life, the food and their coffee. I love coffee, especially the Makiato (laughing). I try to go back to Ethiopia once a year. I can't wait til I go sometime soon.
​
How did you get started with modeling?
​
​I started modeling when I participated in the Miss Teen San Diego at the age of 17. I enjoyed it so much, I started to do fashion shows, and hair shows. I loved being in front of the camera, I had few of my own personal photographers who took so many pictures. I appeared in few American magazines such as Black Woman magazine, Roots magazine etc. And I just kept it going.​
​EXCLUSIVE INTERVIEW​
​Zewdi Reda:A Beauty Queen with a Big Heart
 Aside from modeling, what are you most passionate about?​
Aside from being a humanitarian and  a model, I am also a Personal Fitness Trainer, currently training at 24 Hour Fitness Super Sport as well as privately in my own home gym. Whenever I am free, i am in the gym. I could live in the gym and be happy. Those that know me personally, know that eating healthy and working out are my two other passions.​
What inspires you the most? Do you have any favorite quote you try to live by?​
​Life inspires me. Everyday we wake up to accomplish something, be it working to get a paycheck, going to school to get good grades and eventually a degree, or taking care of our kids. Tomorrow is not promised to us, therefore, we have to live for today. And make today the happiest, and the best ever. So each day I am thankful and want to live it to the best of my ability. I have a big smile on my face no matter what, because God loves me enough to give me the gift of "today". That being said, my favorite quote would be "Do not swell in the past, do not dream of the future, concentrate the mind on the present moment" _Buddha​
What do you enjoy doing in your spare time?​
In my spare time, when I am not working out (smile), I enjoy spending it with my family. I am so blessed to have a family to spend it with.
What does beauty mean to you, when do you feel the most beautiful?​
​
First, I want to thank Beera Beero for that honor and I am humbled by it. Although  Beauty to me means so many things and not one of them is physical. Beauty truly comes from within. A person's heart and what's inside of them makes someone beautiful. Their action makes them beautiful. Someone may not look so beautiful on the outside, and when you get to know them, they automatically become beautiful or vice versa. That's because their inside reflects their outside.
When do I feel beautiful? I feel beautiful when I become non judgmental and put myself in other people's shoes, it gives me a broader understanding of why people do the things that they do. Feeling at peace with myself makes me feel beautiful. Also when I have a good hair day, that makes me beautiful (laughing) But I guess that's with every woman right.
​
What are your beauty secrets? Is there any one beauty product you love most?
​
There is no secret, but my ultimate routine that I have been following for as long as I can remember is eating healthy and working out. I try not to eat a lot of meat, and eat my greens as much as I can. If I don't have time to eat my green, I juice it and drink it. Much easier to consume my daily's worth of veggies, rather than trying to eat so much in a day, sometimes it's not possible.
​
The beauty product that I love the most is Dickinson's Witch Hazel. It's an astringent that you put on your face right after cleansing it. It evens out my skin and make it look flawless. I love it. I use it every night. I also wash my face with Baking Soda at least once a week. It washes out the dead skin and smoothes any fine lines.
​​
What do you consider to be your greatest achievement? any future goals?
My greatest achievement would be my non-profit Have Hope Foundation. I feel so proud that I can make a difference in someone's life and can sleep sound every night knowing that I have done something good. My future goals for my non-profit would be to open up a school in one of the rural areas of Addis Ababa. Education is the key to the future so I am going to focus on that for now.
And personally speaking, my goal is to open up a small fitness studio catering to the women of color in the Bay Area as well as my own fitness clothing line, which is in the works as we speak. A lot is going on, I am very excited.